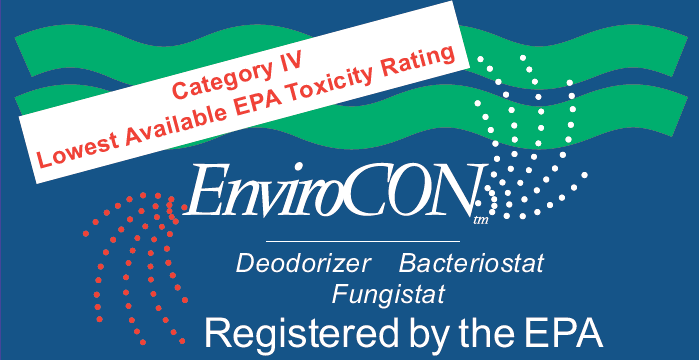 As the industry leader in chlorine dioxide technology, Bio-Cide International has developed and patented numerous applications directed at controlling microorganisms. Chlorine dioxide is a powerful antimicrobial compound effective against a broad range of both gram-positive and gram-negative organisms as well as yeasts and molds.
Specific to the HVAC industry, Bio-Cide™s EnviroCON product is highly-effective in eliminating odor-causing microorganisms as well as those associated with mold, mildew and bacterial growth.
A point of contact application, EnviroCON eliminates odors at their source through a chlorine dioxide release-process that destroys organisms at the origin. EnviroCON uses no perfumes or masking agents.
An enhanced benefit of EnviroCON is its low toxicity and safety rating from the EPA. As a result, EnviroCON may be used in occupied spaces. EnviroCON does not use any environmentally-damaging propellants or flammable ingredients.
Use EnviroCON on as a part of a regularly scheduled maintenance plan to ensure fresh clean air. For bacteria, mold, mildew, funji and algae, there is not an easier, safer or more effective product on the market.
USE INSTRUCTIONS FOR HVAC SYSTEMS
For deodorization or general odor control, apply a liberal amount of EnviroCON to the origin of the odor. For example, apply EnviroCON directly to system ductwork, drip pans, evaporator coils and other associated air conditioning elementsto eliminate odors associated with bacteria, mold, mildew, fungi, yeast and algae.
For stasis microbial control, the system must first be cleaned and sanitized usingOxine-HVAC, then followed up with a routine maintenance program of EnviroCON.
Apply a liberal, and non-diluted amount of EnviroCON into the system intake while the system fan is running to ensure complete microbial environmental control. One gallon of EnviroCON will treat approximately 1000 – 1500 square feet.
Due to the size and length of duct systems, it is important to allow several minutes of application time for adequate system coverage.
TOXICITY AND SAFETY
One of EnviroCON™s trademark qualities is its low toxicity and safety rating by the EPA. Rated as a category IV, the lowest EPA toxicity rating, EnviroCON can be applied directly to HVAC system duct work in populated areas.
The lowest EPA toxicity rating means there are no harmful dermal (skin), ocular(eyes), inhalation (breathing), or ingestion (swallowing) effects when using EnviroCON.
EnviroCON does not use any propellants or flammable ingredients, enhancing its safety qualities.
EnviroCON is a NO-RINSE product, making it very easy to apply. Once EnviroCON is applied, it dries leaving the system virtually residue-free.
APPLICATION METHODS
Applied with a hand-held fogger or an air-driven sprayer, EnviroCON is easily applied to all HVAC systems including commercial, industrial, institutional and residential.
In addition, EnviroCON is currently used in health care facilities, kitchens, restaurants,offices, hotel and motel operations, recreational vehicles and homes.
PRODUCT OVERVIEW
• No Perfumes • No Alcohol • Lowest EPA Toxicity & Safety Rating • Easy to Apply • EPA Registered • Point-of-Contact Microbial Control • No Activation Required • No Rinsing
AVAILABLE IN QUARTS, GALLONS AND DRUMS
APPLICATIONS:
• Commercial • Industrial- Residential • Institutional
Other EnviroCON USES:
• Inside Cars/Campers • Restrooms • Litter Boxes • Pet Kennels • Diaper Pails • Locker Rooms • Fire & Flood Areas • Basements • Hotel & Motel Rooms • Inside Shoes
Manufactured by: Bio-Cide™ Bio-Cide International, Inc. 2650 Venture Drive Norman, OK 73069 1.800.323.1398 www.bio-cide.com